CitiPower is upgrading the electricity network in the Melbourne CBD as part of a major $250 million project involving Waratah Place.
When complete, the Waratah Place project and Melbourne CBD Security of Supply project will ensure that if unexpected events occur on major supply lines, such as extreme weather, fires, traffic accidents or infrastructure failures, then the network has a 'double backup' to provide continuous supply to homes and businesses in the CBD.
Every day, almost 1 million people and businesses, generating 25% of the state's economic value, depend on the continuity of electricity supplies to the Melbourne CBD.
At the heart of the Security of Supply project is the rebuilt Waratah Place Zone Substation. The zone substation, once fully complete, will allow power to be diverted around the grid so the duration of a major power outage is limited to no more than 30 minutes.
Currently, the CBD's power supply can withstand one major fault on the 66kv network. This project is designed to ensure the city can withstand two major outages, with minimal impact to customers.
While ensuring reliability, the Waratah Place Zone Substation has also been designed to help reinvigorate the heritage of the vibrant laneway culture around Chinatown.
The works in 2019 are going to be bigger, longer and have a larger footprint than the project has previously experienced and we appreciate your patience as we continue our work.
The deep excavations close to heritage-listed buildings, as well as beneath Little Bourke Street's Chinese monument, have required extensive engineering to minimise the risk to these structures which were built on shallow foundations.
We're looking forward to the full reopening of Waratah Place laneway in 2020.
Lonsdale Street closure
From Sunday 12 January to Sunday 16 February the Waratah Place Zone Substation Project will be completing works affecting traffic on Lonsdale Street.
Work will take place behind temporary mesh fencing in three locations along Lonsdale Street between Heffernan Lane and Russell Street. Traffic will be reduced to one lane in each direction during the works period, with westbound traffic diverted onto one of the two eastbound lanes.
Traffic controllers will be on hand to guide traffic and ensure the safety of motorists, pedestrians, and cyclists.
Pedestrian access and shop front access will be available at all times throughout the five weeks of construction.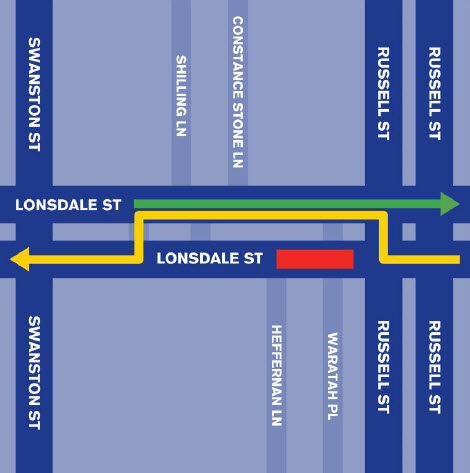 Waratah Place Laneway - Accessible Hours
The Waratah Place laneway is open for business and accessible to pedestrians at all times.
We're busy replacing and connecting 10.5km of cables that wind throughout the city. This involves working with gas, water and sewerage utilities to relocate key assets.
What we have done so far
The Security of Supply project has so far seen upgrades to the Brunswick Terminal Station, Bouverie – Queen Zone Substation and Victoria Market Zone Substation, and the installation of 21km of new electricity cables travelling over 7km from the Brunswick Terminal Station to Carlton. The Waratah Place Zone Substation is the final part of the project to support enhanced capacity to Melbourne's CBD and surrounds.
Little Bourke Street - completed works
Little Bourke Street is now back open! Thank you to all of the local businesses and residents for your support over the past several months of works.
The Waratah Place Zone Substation project works in Little Bourke Street were completed on Saturday 2 November and works successfully completed at the intersection of Russell Street and Little Bourke Street on the weekend of Friday 11 October 2019.
The latest stage of works involved:
Trenching along Little Bourke Street to a depth of four metres;
Excavating more than 300m3;
Installing 3.3km of new conduit along a 150 metre section;
Removing and replacing 30 metres of bluestone curbing, gutters and footpaths; and
Using a low CO2 asphalt made with recycled toner cartridges, recycled glass and used tyres.
The work also involved trenching underneath the Chinatown monument, with qualified surveyors overseeing the work to ensure that it did not impact on the structure.