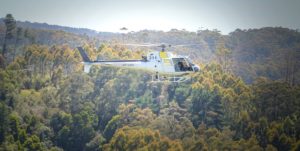 Electricity distributor Powercor is using helicopters to fit new powerlines above the Otways to upgrade the network in one of the most remote and inaccessible parts of Victoria.
Lineworkers called in the air support to assist with the reconductoring job, as steep slopes, plunging valleys and heavy vegetation make the job using vehicles and ground-based crews near impossible.
Powercor project manager Brendan Doyle said the specialist role of helicopters for the work was rare for Victorian electricity distribution networks but is commonly used overseas in remote and mountainous terrain and on the higher and larger electricity transmission lines.
He said a large crew would also support from the ground, helping to upgrade approximately 6km of line between Lavers Hill and Yuulong.
"The Otways region has some of the longest powerline spans in our entire network." Mr Doyle said.
"We decided to bring in the helicopter to not only make it easier and safer for our crews, but also to minimise the impact on our customers and the environment during this work."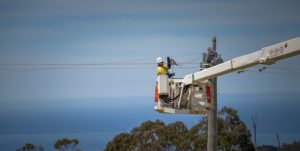 "If we had conducted this purely from the ground, the work would have taken a lot longer, had a greater impact on the environment and resulted in longer outages for the customers."
About 95 customers in the Lavers Hill, Yuulong & Johanna area were impacted by planned outages as part of the work to help crews conduct the upgrades safely.
"Our ongoing year-round reconducting program works to upgrade sections of powerline like this will support customers by creating a safer, more reliable power supply for those in the south western parts of the Otways," Mr Doyle said.
Helicopter works have taken place over four days, including helping fit new powerlines to a small section of the network near Geelong.
Work crews are on schedule with all network inspection, maintenance and testing requirements ahead of the annual bushfire season.
A $503 million extensive program of works throughout 2021, including through Victoria's COVID restrictions, has helped ensure the CitiPower and Powercor networks are as prepared as possible for the coming summer.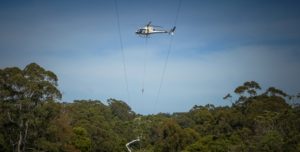 These works included:
• Performing 41,302 maintenance tasks across the network.
• Cutting vegetation away from 60,073 powerline spans, with 100% of the network inspected by
our helicopter and ground-based LiDAR vegetation detection program.
• Rolling out an additional four Rapid Earth Fault Current Limiters (REFCLs), taking the total
number to 18 that will be in operation this summer. These devices provide for additional
protection to prevent fires and are now protecting 15,467 kilometres of powerlines in high
bushfire risk areas servicing 251,760 customers. Last summer, the 14 REFCLs in service
activated over 16 times on the 9 Total Fire Ban days to help keep communities safer.
Powercor manages its network of almost 90,000km of powerline and 588,000 poles through a rigorous inspection and maintenance program, on top of a network-wide vegetation management program clearing trees and shrubs well away from powerlines.