Helicopters will be flying over parts of the Macedon Ranges in the next two weeks as part of Powercor's efforts to keep the electricity network safe and reliable.
The aircraft will be fitted with advanced Light Detection and Ranging (LiDAR) technology to scan for vegetation growing too close to powerlines.
From today, weather permitting, the Bell 505 helicopters will be flying across Gisborne, Woodend and surrounding areas for about a fortnight, capturing enormous amounts of data to form a 3D image of more than 2400km of powerline spans in the area.
The data is analysed to help inform Powercor's annual tree-cutting schedule. Flights take place each year, capturing new data and growing Powercor's knowledge about local growth rates and environmental conditions in the area.
The helicopters will fly above powerlines at just over 300 metres at a speed of about 130kmh.
They have been fitted with a Riegl sensor system which uses LiDAR scanning technology to accurately measure the distance between any tree branches or other vegetation and the electricity network.
Powercor Head of Vegetation Management, Hugh Vickers-Willis said the data can be used to create an accurate digital model of the electricity network and its surroundings.
"This data helps ensure we identify which trees to cut, by how much and when," Mr Vickers-Willis said.
"This is all about community safety and it's something we're continuing to invest in as we work to keep the network safe and reliable."
Mr Vickers-Willis said Powercor had recently brought its aerial inspections 'in house', rather than using external contractors, which has delivered significant improvements in safety, data quality, flexibility and efficiency.
"By making these improvements to our aerial services, we are further reducing the risk of fire and improving the reliability of the network," Mr Vickers-Willis said.
Vegetation management is part of Powercor's broader bushfire mitigation program, which also includes an extensive asset inspection and maintenance program, and the installation of new safety technology on the network.
Powercor is responsible for the cutting and removal of trees near its 86,000km of powerlines within the boundaries of private properties and on public land, in order to maintain the required safe clearance space.
The helicopters are operated by the network's affiliate business, Beon Aerial Services.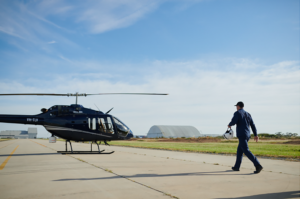 Fast facts – the fleet
Aircraft: Bell 505 helicopters
Fleet size: Two aircraft
Crew: Two pilots per aircraft
Top speed: 232km/h
Slow cruise speed for LiDAR capture: 129km/h
Range: 617km
Aircraft length: 12.93m
Aircraft height: 3.25m
LiDAR system: RIEGL VUX-240
LiDAR scan speed: 1.8MHz and 400 lines per second
Data capture: 1TB per aircraft per day