A major program to lift pole replacements and reinforcements to at least 34,650 over five years, as part of work to build a stronger and safer electricity network across western Victoria, is proposed to cost a typical residential customer about $2.60 a year.
Electricity distributor Powercor has now submitted an application to the Australian Energy Regulator (AER) seeking cost-approval for the $112.8 million package of new work.
It follows Energy Safe Victoria's provisional acceptance of Powercor's Bushfire Mitigation Plan that commits to replacing or reinforcing at least 34,650 poles over the next five years (6,930 poles per year).
The application to the AER outlines the work and associated costs required to meet these increased commitments. If approved by the regulator, the costs will be reflected on electricity bills from 1 July, 2023.
Powercor's Head of Major Projects and Maintenance Marcus Olive said that the program would deliver safety and network resilience improvements, while still keeping costs as low as possible for customers.
"This program is an essential part of building a stronger and safer network," Mr Olive said.
"This year we've already seen lightning and strong winds damage parts of our network, highlighting how important this program is to create a more resilient power network in the face of climate change and more extreme weather events."
"The cost to customers of this program is less than the cost of a cup of coffee a year, demonstrating we have sought to keep costs as low as possible while delivering major safety benefits to our customers."
"Our customers have told us they're willing to pay well above this small cost increase if it means we have a stronger, more resilient network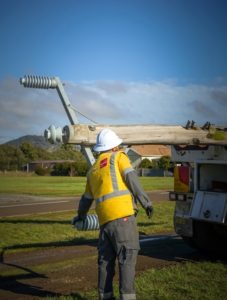 – and that's exactly what we're building."
The five-year program involves Powercor replacing or reinforcing about 7,000 power poles per year – a 65% increase on 2021 levels.
The extensive program of works has been planned on a region-by-region basis and is taking place in the Horsham, Cobram, Shepparton, Kyneton, Bendigo, Mildura, Ballarat, Colac, Geelong and Warrnambool regions, including surrounding areas.
The planning for the program is informed by a leading-edge asset management approach and which tailors our inspection and maintenance activities for each of more than 356,000 wooden power poles.
This takes into consideration factors including the type of wood, their age, and prevailing weather conditions at their location.
"We've always replaced every pole that we have identified as needing to be replaced," Mr Olive said.
"But by taking this more precautionary approach to managing poles, we are supporting safety and resilience objectives and over time, reducing the average age of our assets."
Powercor is the most efficient rural network in Australia, as highlighted by the Australian Energy Regulator's 2021 benchmarking report.