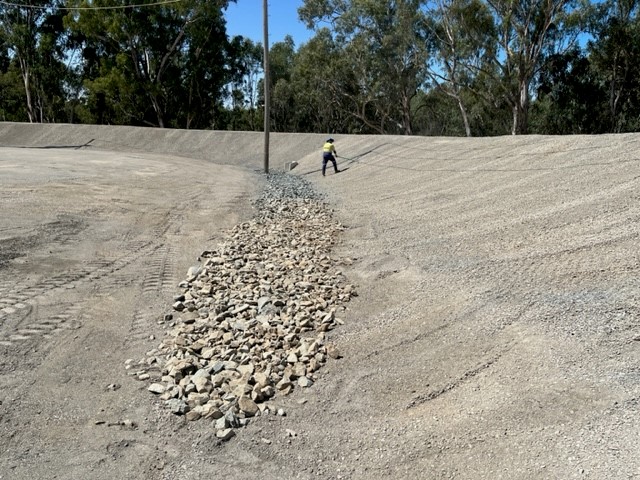 A permanent levee to protect the Mooroopna Zone Substation from a one-in-200 year flood is now complete as part of work by Powercor to reduce the impact of the changing climate on power supplies to communities.
Powercor crews have used more than 9000 cubic metres of soil to build the 310 -metre long levee around the critical site at Echuca Road, near Gemmills Swamp and close to Goulburn River. The levee height ranges from two metres to up to four metres in the areas closest to the swamp.
Repair work to the zone substation, which was impacted by October's floods, has also been completed, while a new retaining wall inside the site has also been built.
Powercor's Head of Major Projects, Marcus Olive, said the new levee was designed to reduce the risk of floods even larger than what was experienced last October affecting the critical site.
"As our weather becomes more extreme and events like last October's floods become more common, investing in measures to protect power infrastructure like Mooroopna Zone Substation is critical," Mr Olive said.
"People rely on power and this substantial work is about reducing the risk of floods affecting supply to homes and businesses when they need it most."
In October, Powercor turned off the Mooroopna zone substations after rising water from nearby rivers and creeks breached a temporary levee and flooded the site. By turning off the substation, Powercor was able to reduce the safety risk to the community, employees and emergency services, and minimise long-term damage to the site.
The zone substation supplies about 10,688 homes and businesses in the Mooroopna, Tatura, Ardmona, parts of Shepparton, Kialla, Haston, Murchison, Dhurringile, Rushworth and surrounding towns.
At the time Powercor was able to continue providing power to about 4700 customers connected to the substation by supplying them via other parts of the network, and returned supply to all customers.