CitiPower and Powercor have recruited a near-record number of apprentices and trainees as part of their annual program, with 34 recruits starting at 12 locations in central, northern and western Victoria as well as metropolitan Melbourne.
The intake of apprentice line workers, underground cable jointers, designers, testers, electrical fitters and substation electricians includes four women – the largest ever intake of female apprentices in a year.
The new roles are based at Bendigo, Ballarat, Geelong, Shepparton, Kyneton, Warrnambool, Colac, Mildura, Horsham, Maryborough, Burnley and Ardeer.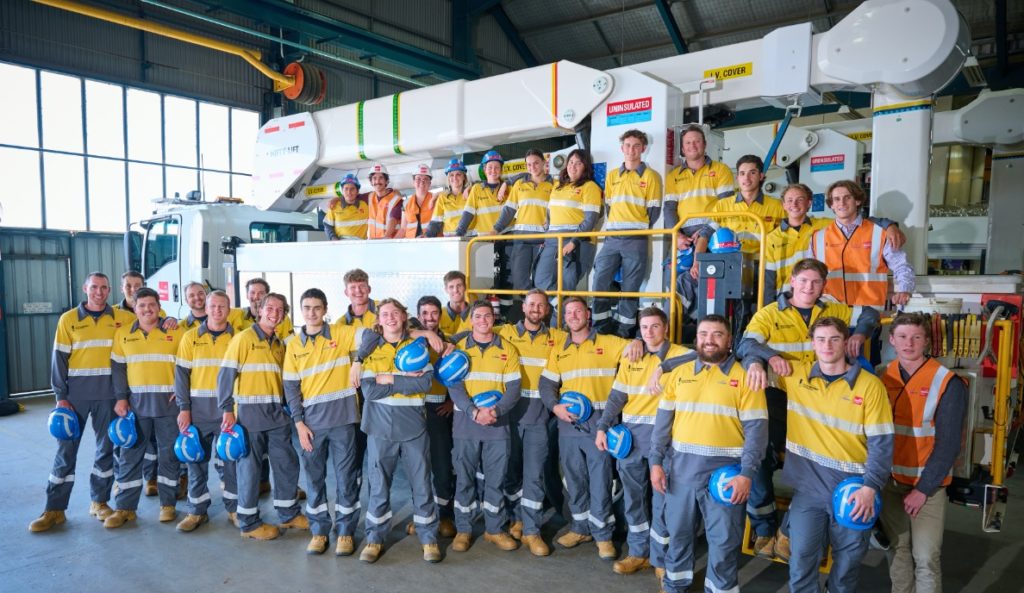 Head of Field Services Ross Young said the significant recruitment was an example of the importance CitiPower and Powercor placed in developing its own workforce.
"We're really proud to recruit such a large contingent of apprentices and trainees this year," Ross said.
"It's a very busy time for our networks and we're seeing enormous change, we've got very large maintenance and major projects programs, we're seeing significant customer connections growth and we're delivering a once in a generation transformation of the energy system."
The recruits range in age from 17 to 35, with some joining straight from high school while others have begun a second career after working as an electrician, forklift driver, plumber and carpenter.
Ross said the recruits were chosen from a field of 850 after undergoing an intensive selection process.
"The majority of our field workforce would have come through the apprentice or trainee ranks at one point," Ross said.
"By being part of our field teams, they will be on the frontline of operations – playing a major role in integrating renewables into the network, building stronger infrastructure and providing critical responses during major weather events."
CitiPower and Powercor's apprenticeship program is also the only opportunity in Victoria for apprentice line workers to start with a network business directly.
Since 2001, CitiPower and Powercor has recruited almost 500 apprentices and trainees as we build our trades, technical and operational workforce.
"Thank you to all who applied and we encourage those who were not successful this time, to consider applying again next year," Ross said.
A breakdown of apprentices and trainees, their roles and locations are listed below:
| | | |
| --- | --- | --- |
| Name | Role | Depot |
| Fletcher Harris | Apprentice lineworker | Ardeer |
| Brandon Scott | Apprentice lineworker | Ardeer |
| Daniel Agius | Apprentice electrical fitter | Ardeer |
| Amelia De Lane | Apprentice electrical fitter | Ardeer |
| Nicholas Quedley | Apprentice cable jointer | Ardeer |
| Matthew Simpson | Apprentice lineworker | Ballarat |
| Nicholas Kattula | Trainee electrical tester | Ballarat |
| Thomas Pearson | Trainee designer | Ballarat |
| Tim Maggs | Apprentice lineworker | Bendigo |
| Brent Abbott | Apprentice electrical fitter | Bendigo |
| Daniel Cahill | Trainee electrical tester | Bendigo |
| Sarah Wirges | Trainee designer | Bendigo |
| Demetri Petropoulos | Apprentice lineworker | Burnley |
| Nikki Stobie | Apprentice lineworker | Burnley |
| Maisarah Ghazali-Wilson | Apprentice electrical fitter | Burnley |
| Lily Blandford | Apprentice electrical fitter | Burnley |
| Haiden Clark | Trainee electrical tester | Burnley |
| Declan Brown | Apprentice lineworker | Colac |
| Alistair Johnson | Apprentice lineworker | Colac |
| Zac Herman | Apprentice lineworker | Geelong |
| Jesse King | Apprentice cable jointer | Geelong |
| Lachlan Demasi | Trainee designer | Geelong |
| Rhys Barber | Apprentice lineworker | Horsham |
| Sebastian Morris | Apprentice lineworker | Kyneton |
| Sam Quinlan | Trainee designer | Market St |
| Lachlan Bates | Apprentice lineworker | Maryborough |
| Bayden Collicoat | Apprentice lineworker | Mildura |
| Rhys Keating | Apprentice lineworker | Mildura |
| Travis Dawes | Apprentice lineworker | Mildura |
| Callan Aldridge | Apprentice lineworker | Shepparton |
| Alex Smith | Apprentice lineworker | Shepparton |
| Cameron McNamara | Apprentice lineworker | Shepparton |
| Harry Moss | Apprentice lineworker | Warrnambool |
| Cooper Miller | Apprentice lineworker | Warrnambool |