Powercor has recently completed three "high load" powerline lifts in Geelong to help build the new Spirit of Tasmania terminal.
The enormous steel structures made their way from Corio to Geelong Port via road during July.
A dedicated escort team carefully guided these heavy haulage trucks and their cargo down to their final destination over three nights, with the final lift taking place last Friday, 29 July.
These included powerline lifts in 'live' conditions, as trucks passed beneath, to avoid impacts to customers.
The trucks were carrying steel structures set to be used as part of the construction of the new Spirit of Tasmania terminal.
The trusses were up to 6.1m high when loaded onto the trucks.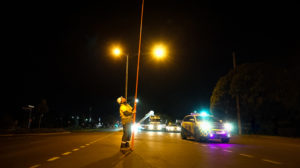 How we manage high loads
Supporting high loads make their way across the road network is a critical role of electricity distributors, like Powercor, which need to plan carefully with transport companies and road authorities to ensure the appropriate clearance for any high load can be accommodated.
While all overhead lines in the Powercor network which cross over roads are at least 5.5m high, at times customers do need to transport oversized items by truck which reach or exceed the height of our assets.
When high loads requests are made, Powercor teams work with transport operators to examine their route and plan any powerline lifts required and facilitate escorts where needed.