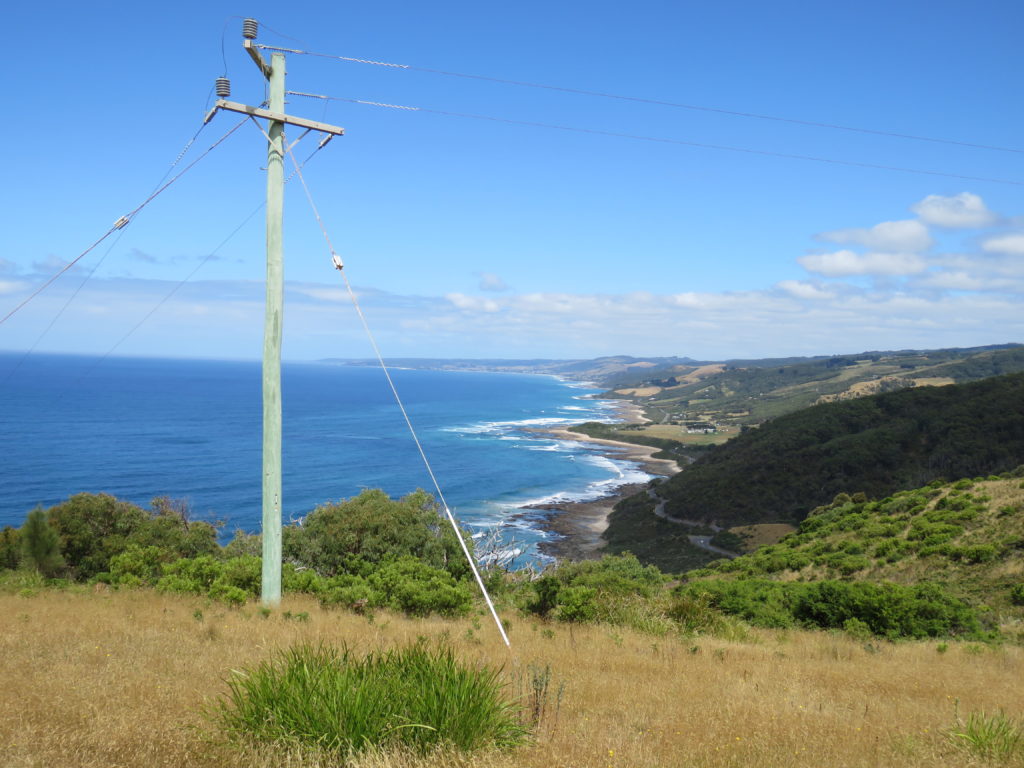 To the Apollo Bay community,
We are committed to continually improving the safety and reliability of your electricity supplies.
It is for this reason that we have taken the decision to increase our in-house field teams to service the region from depots in Colac and Warrnambool. It is all about ensuring we maintain a responsive service for our local communities.
By in-housing more of our field teams, we are able to respond better to any type of situation
We're focused on building our network's resilience by both proactively preventing supply issues and having the right resources in place to quickly respond when problems occur.
In the past two years, we have dramatically increased the amount of regular inspections, maintenance and repair works our Powercor crews conduct locally and on the feeder line that supplies Apollo Bay originating in Colac.
As a result, Apollo Bay is benefitting from an extensive network of safety devices on the powerlines, the development of new and better ways of doing things to suit the local terrain, like using drones for pole top asset inspections and new technologies that monitor faults and automatically respond to keep power flowing as much as possible.
It's our crews from Colac and Warrnambool, directed by the Powercor network control centre, that you already see in the community responding to faults, patrolling the lines, restoring network damage caused by extreme weather events and building the capacity of our network to support customers connect more solar.
Over the past two years, there has been improvements in the number and duration of power outages due to faults on the two main powerlines that supply Apollo Bay. Weather and storm activity remains the most frequent cause of outages, including from last October's and this January's severe storms that caused widespread damage across parts of the state.
We thank our local service agent, Central Power, for their support for Powercor crews.  Central Power provided a small team based in Apollo Bay.
Our local service agents however, do not have the resources to provide the full range of services we need to deliver locally.
Central Power will continue to support the Apollo Bay community until early December 2022.
By that time, we will have recruited and embedded seven new field employees and increased our fleet and resources to support the strong teams currently in the south-west region.
We will have a roster of full-time staff assigned to Apollo Bay area to effectively respond to any power situation.
We will continue keeping the community updated on any significant changes to how we are operating and maintaining services in the region.
More information can be found below.
Yours sincerely
Peter Bryant,
General Manager, Powercor Network Services
 —
Questions and answers
Why are you making this change?
We are making this change to invest further in our internal workforce who can respond safety and efficiently to any type of situation.
This flexibility in skills, plant and equipment and people who work for our business ensure we can meet any challenge now and into the future as our network continues to change.
Why can't you open a depot in Apollo Bay?
Powercor already operates 13 regional depots across western Victoria, including in Colac and Warrnambool.
There is not the volume of people or work in Apollo Bay to sustain a local depot. Instead, we will have a dedicated 24/7 roster for Apollo Bay and the surrounding town to attend any power situation that arises.  This is very similar to a lot of other towns.  For example, Lorne is serviced from our Geelong depot.
Will the new team members be based in Apollo Bay?
We will begin recruiting for our new field employees shortly and will be encouraging local residents to apply. If we do recruit some team members in Apollo Bay, this will mean that they may be based from the area during certain periods.
Can you guarantee that your response times will not change?
Our focus is always on restoring power to customers as safely and as quickly as possible when an outage occurs.
It is important to highlight that response times differ according to what is happening across our networks as well as what's caused the outage.
For example, during major storms when significant damage has occurred to our poles and wires that require extensive repairs, power restoration can take longer.
At the moment, these faults are already managed by our teams in Colac so there will be no change in how we respond.
How are you planning to reduce the length and number of outages in the future?
Power outages can be caused by many different factors, including weather, car accidents and animals.
Apollo Bay is fed by two main powerlines that begin at Colac and travel through the Otway Ranges. These lines are located in some of the most highly-vegetated and difficult-to-access areas in the state and this can make them susceptible to outages during windy conditions.
We have invested significantly to minimise outages and improve reliability within the region. For example, we have installed smart technology that allows power to be automatically redirected to flow in an alternative direction if a fault occurs on one of the two high voltage feeders into Apollo Bay. This is usually why power is often restored to the main township within minutes of a fault occurring.
As our weather becomes more unstable, we are investigating ways to further strengthen our network to minimise outages for our customers.