The upgrade is divided into two stages:
Stage 1 (August – December 2020) includes:
Relocate overhead electrical powerline to underground along Claremont St North, near Melbourne High School
Civil excavations to install new underground cables or extend existing underground cables
Remove all existing electrical infrastructure from power poles (except for streetlights for the time being) in preparation for them to be removed
Stage 2 (November – December 2021) will include
Install new public lighting electrical cable the length of Claremont St
Underground remaining powerlines and remove remaining power poles
City of Stonnington Streetscape Improvement Works (late 2022) will include
Installation of new LED streetlights as part of the City of Stonnington's streetscape work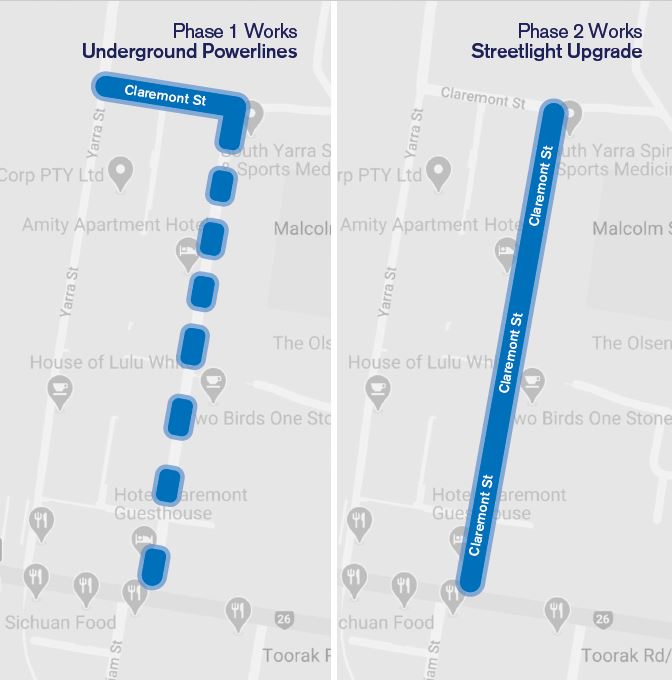 Reducing impacts
Phase two will take just over one month to complete and will finish ahead of the end of year shopping period, so people can move with ease.
We know residents and businesses have already seen a lot of work in the area, so we have planned to minimise our impact on the community as much as we can by ensuring:
Pedestrian access to properties and businesses will be maintained
Developers and businesses in the area can facilitate deliveries to ensure work and business continues as normal
As much notice as possible for future works including the nearby Metro Tunnel project is given
Traffic controllers are available to help ensure motorists, pedestrians and cyclists remain safe in changes road conditions
Keeping you informed
We are committed to engaging and communicating with residents, businesses and the community effectively.
We will notify residents and businesses directly before works begin and provide 7-10 days' notice of any serious impacts such as power outages.
For further information: