Powercor will be replacing sections of High Voltage (HV) lines in the Hepburn, Macedon and Mount Alexander areas as part of a Victorian Government funded bushfire safety program.
This powerline replacement program was established to identify initiatives that would reduce the likelihood of powerlines causing catastrophic bushfires in the future and follows the final report from the 2009 Victorian Bushfire Royal Commission.
What are we doing?
Ploughing, boring or trenching works to lay underground cable
Installing and jointing of cables on our poles and on the roadside
Retiring overhead wires and poles
Replacing existing conductor with covered conductor
How will this impact you?
Some roads will be affected by lane closures
Some roads will incur traffic restrictions due to roadside works
Planned outages towards the end of each construction area
How will this initiative benefit you?
Reduced risk of bushfires started by powerlines
Some improved visual appearance
Less vegetation maintenance required in certain areas
Increased power supply reliability as a result of putting powerlines underground and/or installation of high voltage covered conductors
Typical project timeline
Each project will take around 14 weeks, depending on weather and any unforeseen issues. Our priority is to complete the works as quickly and safely as possible, with minimal disruption to customers and communities.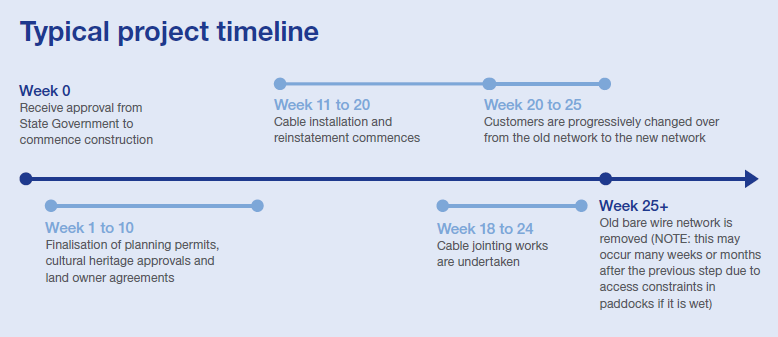 Powerline Replacement Fund – a Victorian Government initiative
The Powerline Replacement Fund (PRF)
The PRF is part of the Powerline Bushfire Safety Program (PBSP) and will see powerlines in the highest risk bushfire areas replaced with insulated overhead conductor and/or underground cable, which are both less likely to start a fire.
This program complements Powercor's extensive bushfire mitigation programs which operate all year round to ensure our customers and assets are protected as much as possible against the risk of bushfires.
To date, Poweror has completed works costing $52 million in the Colac, Otway, Surfcoast, Macedon Ranges and Mount Alexander Shires, removing over 200 kilometres of bare wire and installing 260 kilometres of underground powerlines.
A step by step guide to planning and process
An extensive planning process is undertaken before construction commences.
The Victorian Government advises Powercor of Local Government Areas to target.
Powercor identifies specific project areas to replace powerlines.
The project undergoes several evaluation stages to ensure the cultural and environmental impacts from the construction work is minimised.
Plans are submitted to the local council for planning permit approval.
The council manages the planning application as per existing council planning processes.
Powercor commences construction once the planning permit has been approved.
Once the planing permit has been approved, you will see us out and about installing new powerlines. Our work will include trenching of certain roads to lay underground cable, jointing of cables on our poles and on the roadside and retiring specific overhead wires and poles
There will also be planned outages towards the end of each construction period to enable us to change over existing customers from the old overhead network to the new underground or covered conductor network.  You will be notified of these at least 4 business days in advance, by mail. We will always make every effort to keep outage time to a minimum.
A post construction assessment will be conducted by an independent arborist a year after each project has been completed.
More information & contact us
We want to hear from you
We want to understand what matters to you as we continue to build a network for the future.
Please share your feedback with us at prfproject@powercor.com.au
Further information
We have created a list of commonly asked questions below – these may provide you with further information that is relevant to you.
If you would like to speak to someone, please ring us on 1300 301 101.
How long will the works take?
The full program of works usually take 14-18 weeks, starting from approval and ending with bare wire network being removed. Sometimes the old wire network may be decommissioned but removed later due to access and other issues. The wires are no longer live, so they are not a risk. Our goal is to always complete the full program of work as quickly and safely as possible, working with local council and broader community.
What about other high bushfire risk areas, will they have similar programs rolled out?
The Victorian Government is constantly reviewing their program and will look at funding further line replacement works. If you have concerns about a specific area please contact us.
How will I be notified about road closures or detours?
We undertake extensive community out reach to ensure local residents, businesses and visitors have as much notice as possible about any changes to roads or other infrastructure. This includes local letter box drops, signage and updates through council websites and social media pages.
Will all overhead powerlines across Victoria be replaced?
Powercor's network covers central and western Victoria and we conduct regular reviews of all our infrastructure, as well as take part in specialist programs such mimimising risks from bushfires. Currently, we are focused on the areas as identified by the Victorian Government to replace the overhead power lines.
Will my electricity supply be more reliable?
Generally, power supply will be reliable as a result of the undergrounding of powerlines and/or installation of high voltage covered conductor.