The works will be divided into two stages:
Stage 1 (August – December) will include:
• Relocate overhead electrical powerline to underground along Claremont St North, near Melbourne High School
• Civil excavations to install new underground cables or extend existing underground cables
• Remove all existing electrical infrastructure from powerpoles (except for street lights for the time being) in preparation for them to be removed
Stage 2 (Mid 2021) will include
• Install new public lighting electrical cable the length of Claremont St
• Remove existing public lighting and remaining powerpoles
• Install new public lights.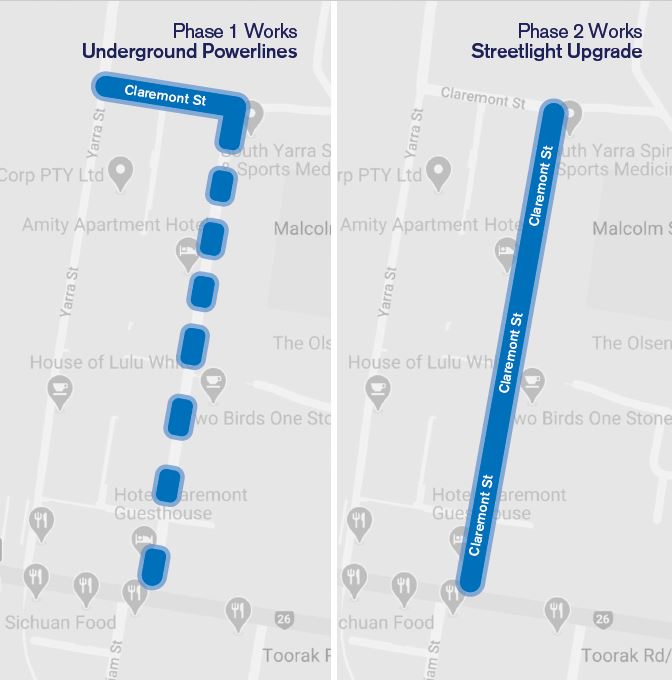 We are coordinating our project with others in the area to minimise the impacts on everyone who lives, works and plays in this precinct. During stage two we will look to coordinate our work with the City of Stonnington's streetscape work.
Reducing impacts
Whilst the first stage of activity will take up to five months to complete, we're minimising disruptions by taking a rolling approach to works. That means any disruptions or changes in traffic conditions will only be in place for a few days at a time.
We know residents and businesses have already seen a lot of work in the area so we have planned to minimise our impact on the community as much as we can:
– Pedestrian access will be maintained to properties and businesses.
– Access to apartment car parking will be maintained.
– We will work with developers and businesses in the area to facilitate deliveries to ensure work and business continues as normal.
– Where possible, complete work around Melbourne High School when traffic is lowest.
– Traffic controllers will be available to help ensure motorists, pedestrians and cyclists remain safe in changed road conditions.
Accessing Melbourne High school
There will be disruption on and around Claremont Street while we undertake these works so there may be times where staff and students moving between Toorak Rd or South Yarra Train station and Melbourne High School will be required to use Yarra Street.
We will continue to communicate with Melbourne High School to inform staff and students when this is necessary.
Keeping you informed
We are committed to engaging and communicating with residents, businesses and the local community effectively. We will notify local residents and businesses affected by each stage of works before we begin and provide notice 7-10 days in advance. Necessary power outages required as part of our work will be communicated in advance by post and SMS alerts.
For further information:
• Phone the CitiPower Call Centre 1300 301 101